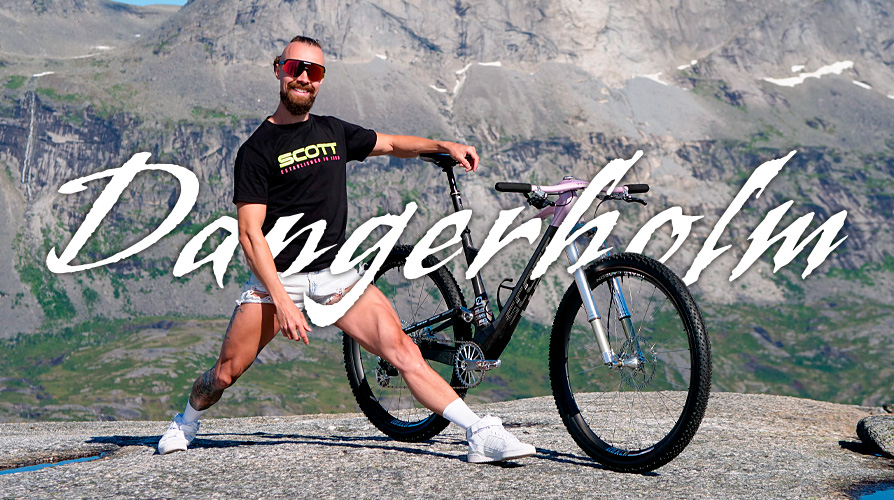 ---
"My bikes are not for showrooms,
they are for the trails."
A quote from Dangerholm that we find hard to believe given his many rolling works of art.
But who is this Dangerholm who first works on his frames with a Mora knife and frees them from the original paintwork? Behind Dangerholm is Gustav Gullholm, who was born in Norway and grew up in Sweden. Until recently, he worked in a bike shop in Mora, Sweden, but has now devoted himself completely to his bike builds. Gustav discovered his passion for bikes at the age of 12, when he was riding BMX bikes around the area with two friends. When the boys outgrew the BMX age, they played around with the bikes, repainted them and modified them. His first downhill bike consisted of a cracked (and welded back together) frame that he painted himself and added whatever parts he could find anywhere. This was the beginning of his tuning obsession.
 
At the age of 14, he started helping out in a bicycle shop after school. Here he could be found almost every day after school, during the holidays and in the summer. He learned the proper craft on bikes and had access to good tools. The shop was one of the first Scott dealers in Sweden, so he came into contact with the brand early on and specialised in it.
Even though Gustav had already built a Trek Session with a total weight of less than 15 kg in 2010 - and thus created what was probably the world's lightest downhill bike (at that time) - his bike projects did not receive the attention they deserved.
 
The breakthrough came with his two builds of the Scott Sparks and Scales in 2016. Scott had just introduced the lightest XC frames on the market when Gustav saw his chance. He bought the two frames and started building them. He quickly realised the potential of these frames and used them as a basis to create the world's lightest 29" XC bikes. These bikes received attention in the relevant bike forums such as Pinkbike, MBUK and the BIKE. The brand "Dangerholm" was born! It did not remain with these two bodies (fortunately) and further projects followed...
 
A word about the dress code... What would Dangerholm be without his shorts? The extra short jean shorts have become a trademark for him that is hard to miss. It all started when he was a big fan of Lemmy Kilmister, the singer and bass player of Motörhead. The latter was also known for wearing short denim shorts, or "Lemmy shorts" as they can be called. So of course Gustav had a pair, and just for fun, he did some marathon races in them. In the first big Pinkbike report about his bikes, there was a photo of him wearing them, and since then they have been part of what "Dangerholm" is.
 
We are pleased to present Dangerholm's bike beauties since 2022 here. After all, there is a good portion of #r2tuned in each of the bikes...