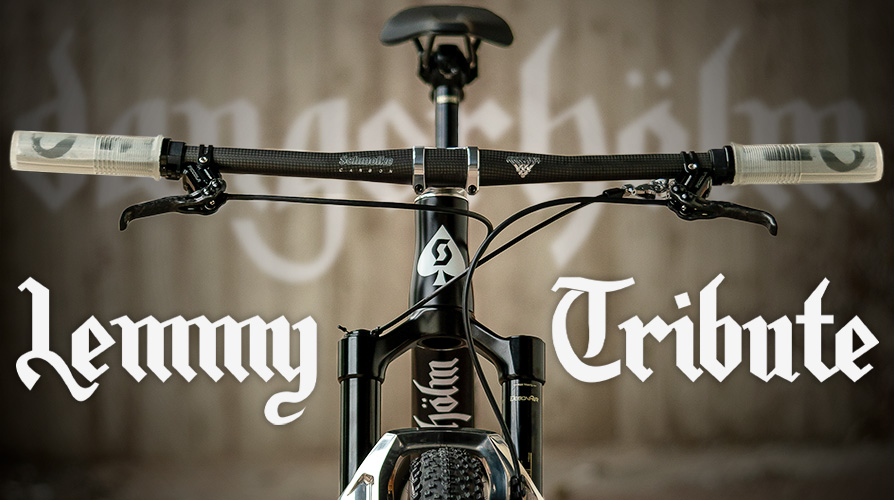 If you like to gamble,
I tell you I'm your man...
The time has come: Dangerholm presents its first bike project in 2022 and thus also the first bike in official cooperation with us. Even though our hobby is lightweight construction, here we finally have a good portion of Rock 'n' Roll. Dangerholm has created a very special memorial to one of his idols. In memory of Lemmy Kilmister, the singer and bassist of Motörhead, Dangerholm created a black and chrome dream with many exciting and unusual details.
The centrepiece is a Scott Scale RC World Cup frame. This received the typical initial treatment by Dangerholm to shine in appropriate matt black some time later. For the desired contrast, a SID Ultimate and a Reverb AXS had to be painted - a stem from Intend and a headset from Leonardi Racing also received this treatment.
The wheelset comes from our in-house wheel build and fits perfectly into the colour scheme for the "Lemmy Tribute Bike" with silver Newmen hubs and Sapim knife spokes. For the use of the Rotor 12-speed cassette, the Newmen rear hub was converted to an 11-speed road freewheel body from Shimano.
A GX AXS rear derailleur on a Dangerholm bike? It's very possible, if you pay attention to the rear derailleur cage. The rear derailleur body itself is "barely" different from the X01 and XX1 models. The decisive extra weight comes with the cage - and Dangerholm swaps this for something more appropriate from Kogel. To switch this individual piece of jewellery, controllers from Zirbel are used. Since these do not have an integrated radio unit, an SRAM Blipbox is needed. This disappears elegantly in the Intend stem, and the cables are routed through a custom Schmolke TLO handlebar, which has the appropriate holes.
The SID Ultimate is a special version for Scott. This has a total of 3 different positions instead of the usual 2 (open/lock) and was travelled by Dangerholm to 104mm. All three positions can be controlled via a custom remote lever.
---
Lemmy Tribute Bike Parts
---
| | |
| --- | --- |
| Frame | Scott Scale RC World Cup (963g incl. hardware) |
| Fork | Rock Shox SID Ultimate 35mm, 3-pos, 104mm travel |
| Remote | Custom Scott Rideloc |
| Headset | Leonardi Racing |
| Stem | Intend Grace CC 90mm, -12°, Intend top cap and expander |
| Handlebars | Schmolke Carbon TLO 720mm custom for internal routing |
| Grips | Freeze Components |
| Controller | Zirbel Twister WE01 with SRAM BlipBox |
| Brakes | Trickstuff Piccola Carbon |
| Disks | Trickstuff Dächle UL 180mm/160mm |
| Bolts | Kogel Titanium |
| Saddle | Syncros Tofino R SL |
| Seat post | RockShox Reverb AXS 125mm |
| Crank | Leonardi Racing Capo 175mm 8-bolt DUB |
| Cranks | Kogel Ceramic DUB |
| Chain Ring | SRAM Quarq Zero XX1, Garbaruk 40t |
| Chain | SRAM X01 |
| Cassette | Rotor 12-speed 11-52t |
| Rear derailleur | SRAM GX AXS, Kogel Colossos derailleur cage |
| Pedals | Shimano XTR with METI titanium axle |
| Rims | Duke Lucky Jack SLS3 30mm |
| Hubs | NEWMEN Fade |
| Spokes | Sapim CX Ray |
| Tires | Pirelli XC RC Lite 2,4" |
| Sealant | Syncros Eco Sealant |
| Extras | Syncros Tailorcage 1.0 Carbon |
| Weight | 9,16 kg |