Description
Handmade wheelsets
Our
handmade wheelsets
are very popular in the cyclist community. We want to show you how your custom wheelset is made and how we manage it to become a light, stiff and durable wheelset.

Your individual combination of hubs and spokes
We have a huge variety of hubs and spokes in our shop. That makes it easy for us to find the best matching material for you. You can select everything; we would only give advice in case of too crazy combinations. It is our aim to find the perfect wheelset for your purpose. When all the parts and colours are finally selected, we are beginning the
handwork.

Determine the correct spoke length

The first step is to determine the correct spoke length from the geometry data of the hubs and rims. This is necessary in case of yet unknown hub-rim-combinations. This appears thoroughly often, because there are constantly new parts released on the market or we are taking new products in our shop. When the spoke length is finally determined, we start the building.

Determine the lacing pattern
We lace every wheelset threefold, as long as this fits to the hub. This seems to be standard for most of our customers. Of course there are other patterns, but you will not do any fail with a threefold lacing. We use 14mm Sapim Polyax nipples for this process. Those nipples are available in almost every colour and have a slide coating. This saves us extra glue and oil. It is no problem at all to construct gadgets, such as spokes with other colours beside the valve or various nipple colours. You can let your creativity flow, this is exactly what handmade wheelsets are for!




Adjust the hubs and tight the spokes
Now the hub is adjusted. When we?re ready with this, you can read the logo by looking through the valve hole. Then we tighten the spokes until the thread is covered by the nipple. The hub should move only minimally now. The spokes are being adjusted finally - and the wheelset is laced.
Center the wheelset
We are exercising care also at centring the wheelset by only using the best tools. An analogue truing stand, a tensiometer from Centrimaster and a spoke wrench von P&Klie is our standard equipment. The high quality of our wheelsets is of course also guaranteed by the years of experience of our wheel builders.





Centring fine-tuning
Next up is the almost hypnotic work of centring. We have took up the cause of not only centring the wheels perfectly, but also keeping a consistently high tension. We are raising the tension in small steps and keeping the rim as straight as possible.

Best quality and optimal stiffness
Afterwards, we pull the wheelset back to the hub centre and start it all over again. With this procedure, we ensure an absolute stable and durable wheelset. This method also helps us to detect spokes with a low tension. This is how we ensure a consistently high (but yet not too high) tension on both sides of the wheelset. This prevents the eventual loss of the spokes. You can sense the perfect wheelset by a luscious, instant acceleration and high curve stiffness.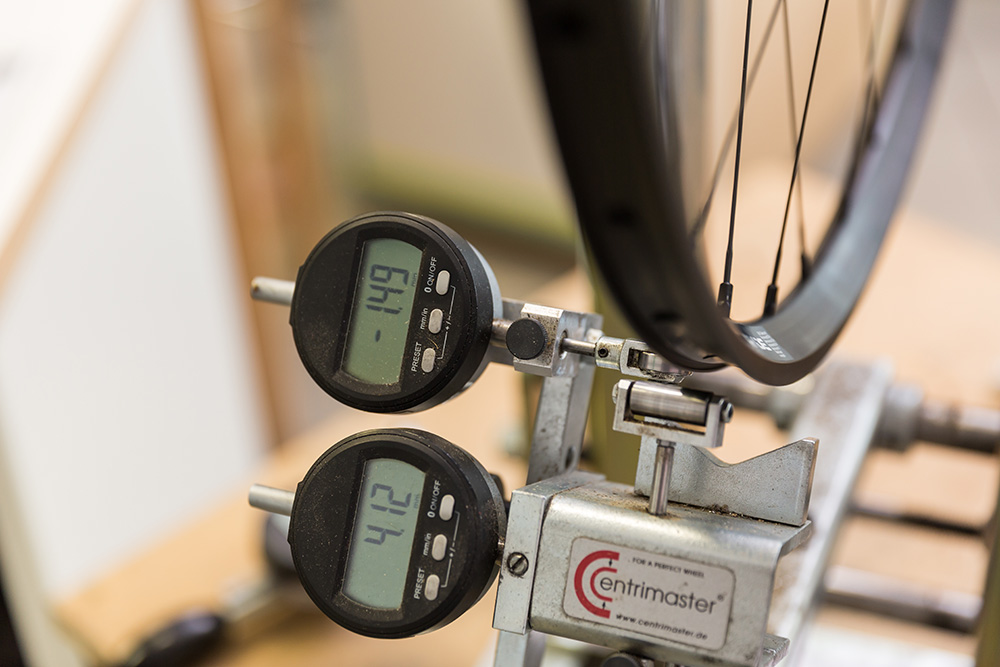 The optimum of homogenous tension
By slow degrees we are verging on a state, in which the wheelset has a maximum variety of 0,2mm, a maximum eccentricity of 0,2mm and an average spoke tension of 1000N on the higher charged wheel side. The exact spoke tension depends also from the maximum values of the manufacturer. This is why the maximum spoke tension also could be higher than 1000N. Anyway, the spoke tension reaches a perfect level, because our expert wheel builders use ideal and already approved values.

Why chose a wheelset from r2-bike?
You will get a wheelset, which was handmade from the first to the last step by an
experienced and competent builder
. We do not rely on automatic processes or are following up stubborn routines. Every wheelset will get every necessary step to become durable and as perfect as possible. Different from system wheelsets, you can select from all possible options in the setting of your custom wheelset.
Our system is variety, not mishmash!
You can get an overview over every possible combination
here.
Do you have further questions?
We are sure that we will find you the perfect wheelset. You can ask us any questions or get a detailed consulting via phone or mail at
wheels@r2-bike.de
.